Spring 2017 Events of Interest
Attend one (or all!) of these events on campus!
January 30, 2017 11:06 AM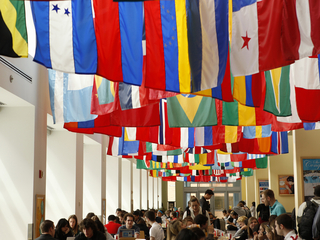 January 30, 2017- March 26, 2017
Albin O. Kuhn Library & Gallery 
February 1, 2017 4:00PM- 5:30PM
Albin O. Kuhn Library & Gallery 
February 13, 2017 Noon- 2:00PM 
Albin O. Kuhn Library & Gallery; 7th Floor 
February 15, 2017 Noon- 1:00PM 
FAB, Room 558
We have had a few changes in the Global Studies Program. Dr. Brigid Starkey continues her leadership role with the program returning as Associate Director, while the College (CAHSS) has appointed UMBC History professor Dr. Rebecca Boehling as Director. Dr. Boehling has recently returned to the U.S. and to campus after directing the International Tracing Service (ITS) for three years and completing a sabbatical research project in Berlin, Germany. Come meet Dr. Boehling and other Global Studies Program faculty and staff on February 15th in FAB 558 (the GLBL conference room) during free hour! Staff will be available to answer any questions you have about the major. 
Light lunch and drinks will be served.
February 15, 2017 Noon- 1:00PM 
The Commons, Room 331 
"UMBC is one of the most diverse universities in the country.  Are you interested in improving your cross-cultural competencies?  This important session with Sarah Gardenghi, Director of UMBC's English Language Institute, will highlight the importance of sensitivity and awareness in working and interacting with UMBC members of other cultures, acknowledge multiple perspectives and ways of improving communication and daily interactions. A variety of campus scenarios will be discussed and explored. ***Space is limited! Please register by Friday, February 10th." 
February 16, 2017 7:00PM- 9:00PM 
Skylight Room; Commons 3rd Floor 
February 17, 2017 Noon- 1:00PM 
Albin O. Kuhn Library & Gallery 
February 22, 2017 4:00PM- 6:00PM 
Albin O. Kuhn Library & Gallery 
March 7, 2017 4:00PM- 5:30PM 
Albin O. Kuhn Library & Gallery 
"Syria and Iraq are facing the worst cultural heritage crisis since the Second World War. Michael Danti's talk will address one of the greatest challenges: the cultural cleansing perpetrated by the so-called Islamic State (ISIS) and the work of the American Schools of Oriental Research to safeguard cultural assets. The American Schools of Oriental Research Cultural Heritage Initiatives (ASOR CHI) work with Syrians and Iraqis to safeguard cultural sites and objects from neglect, damage, destruction, and theft as part of a program developed with the U.S. Department of State. Among the many atrocities perpetrated by ISIS is the deliberate destructions of historic mosques, churches, schools, monasteries, and cemeteries, as well as numerous famous monuments at archaeological sites such as Palmyra, Nimrud, Nineveh, Hatra, and the Old City of Mosul. ISIS brazenly commits these war crimes to advance its radical ideology and gain global media exposure. At the same time, the organization funds its terrorist activities through the looting of cultural property from archaeological sites, museums, libraries, and private collections. Irreplaceable ancient and medieval heritage, embedded in the urban fabric and daily life of modern communities, is endangered as extremists erase cultural memory, manipulate cultural identity, and eliminate cultural diversity." 
March 15, 2017 4:00PM- 5:30PM 
Albin O. Kuhn Library & Gallery 
"In this lecture, Anouar Majid expands Edward Said's notion of Orientalism and extends it back to the Late Middle Ages, when the Andalusian order, characterized by a fragile coexistence among members of different religions, was upended by a crusading Christian spirit and the rise of a Western hegemonic worldview that allowed no room for alternatives. Such a world system forced Muslims and other non-Western traditions into a defensive mode, fighting back by deploying indigenous traditions. Even as European powers pursued their expansionist agenda in the name of freedom, Muslims fought for their independence by rallying their people against Western imperialism. As a result of this uneven struggle, Muslims found strength in orthodoxies that have only made their condition worse and continue to bedevil the world order today." 
March 16, 2017 6:00PM- 7:30PM 
The Commons; Skylight Room 
"Are you confused about current immigration legislation? Does it impact you, your friends, or family? Are you interested in a career in advocating for immigrant rights? 
Time will be allotted to ask panelists questions individually at the end of the event! Panelists at the event will be:
Jessica Beaver - Immigration Attorney
Laura Brown - Immigration Services Coordinator
JoAnna Gavigan - Immigration Attorney
Michelle Massey - UMBC International Education Services
Anna Stepanova - Immigration Attorney
March 16, 2017 10:00AM- 2:00PM 
The Commons, Main Street 
Stop by and visit with representatives from the Peace Corps! Learn about opportunities as a Peace Corps volunteer and careers with the Peace Corps. 
March 17, 2017 3PM 
Physics, Lecture Hall Six 
"A man is on his way home when the poorly constructed tunnel he is driving through collapses, leaving him trapped." (International Movie Database) 
March 29, 2017 7PM
Sherman Hall 003 
"This story is about a problematic blonde girl, Sayaka, who knows nothing about academics but wants to enter one of the prestige university in Japan in just one year." (International Movie Database) 
March 30, 2017 4:30PM- 7PM
PAHB 216 (Dresher Center Conference Room)
"In this event, representatives of civic organizations that work with immigrants in Baltimore and UMBC will discuss local initiatives to create solidarity networks. Join us to learn about these organizations, programs, and actions." 
April 3, 2017- April 7, 2017 
On campus 
The Refugee Youth Project's College JUMP Program is hosting Refugee Awareness Week at UMBC. Join them for a week full of events to learn more about the global refugee crisis and how you can get involved. 
April 5, 2017 11:00AM- 2:00PM 
"This is your chance to get up close and personal to recruiters from multiple employers in the Humanities and Social Sciences to learn about career opportunities.
The UMBC Connects series offers students and alumni the opportunity to meet with recruiters from companies and government agencies that are interested in recruiting UMBC talent. This is your opportunity to interact with individuals that may be able to land you that perfect internship or job. 
Come when you are able, there is no need to stay for the entire event."
April 5, 2017 4:00PM- 6:00PM
Albin O. Kuhn Library & Gallery 
"Dr. Gardullo's talk will focus on the complex ongoing vectors of collaborative international research, archaeology, and memory work in investigating the voyage of the São José. This Portuguese slave ship provides a window into bringing the massive role of the transatlantic slave trade down to a human scale to help us understand the global connections and enduring legacies of this story from Mozambique, to South Africa, Brazil, Portugal, and the United States. In so doing, it provides a new model for how museums and research institutions can operate in the 21st century."  
April 6, 2017 6:30PM- 8:00PM
UMBC Music Box; PAHB Room 151
April 11, 2017 Noon- 1:00PM 
The Commons, Room 331 
"In today's globalized job market, more and more employers are hiring individuals with enhanced cross-cultural and language skills. No matter what your major is, a study abroad experience can make you more marketable. Learn how a summer, semester or academic year abroad can help enhance your professional marketability and internationalize your degree."
April 13, 2017 7:00PM 
Sondheim 103 
"In Hamburg, Ibrahim "Ibo" Secmez, of Turkish descent, wants to direct the first German kung-fu movie. For now, he makes commercials for his uncle's kebab restaurant." (International Movie Database) 
April 17, 2017 Noon- 1:00PM 
The Commons, Room 331 
"If you love travel and adventure, you may be considering a far-away internship or job. Every semester, UMBC students pursue exciting career opportunities across the country and even across the globe. But how do you find these positions? How should you prepare, and what challenges might you face? Join the Career Center for a panel of students and local professionals who have been through the relocation process."
April 18, 2017 4:30PM- 6:30PM 
Albin O. Kuhn Library & Gallery 
"This presentation will examine histories of Latin American immigration, migration, and deportation in the United States.  It locates the structural and institutional roots of today's Mexican and Central American migration to the United States in a number of historical global processes. Thus, Chomsky explains how the cross-border movement of people emerged in the context of late twentieth century globalization as well as through a much longer global history of colonialism, displacement and removal of Indigenous peoples in both North and South America. The role of social, economic and political forces driving these processes, such as nation-state building, economic development, and labor struggles, will be addressed." 
April 19, 2017 7:00PM 
Physics 101 
"An unusual group of people in a village on the coast of Taiwan form a band to perform at a beach concert, while the lead singer searches for the intended recipient of seven lost love letters." (International Movie Database)
April 26, 2017 9:30AM- 3:30PM 
University Center Ballroom 
April 27, 2017 2:00PM- 3:00PM 
CADVC 
April 27, 2017 4:00PM- 5:30PM 
The Commons : The Mosaic, Rm. 2B23
We all talk about how diverse UMBC is. But what does that mean in reality? How and when does our diversity become inclusion?
Spring 2017 Theme - Post-Election 2017: The Immigrant Experience
April 27 Topic
What does it mean to be a refugee?
Join us for a facilitated discussion of this topic, voice your opinions, and hear from fellow community members! 
May 1, 2017 10:00AM- 5:00PM 
University Center Plaza 
Let's get together to share the many ways immigrants contribute to UMBC (and the U.S.). Action Items:
‣ Wear red to identify as part of (or in solidarity with) our community of      immigrants.
‣ Bring quotes, art, texts created by immigrants or celebrating immigration to display on our Celebration Wall.
‣ Use #UMBCimmigrants to document and recognize immigrants' contributions to our community.
‣ Participate, celebrate, and experience the beauty of our immigrant communities at UMBC by showing up, bringing your classes, inviting your friends. 
May 2, 2017 7:00PM 
Engineering Building 027
"There are over 6,000 languages in the world. We lose one every two weeks. Hundreds will be lost within the next generation. By the end of this century, half of the world's languages will have vanished. Language Matters with Bob Holman is a two hour documentary that asks: What do we lose when a language dies? What does it take to save a language?" (International Movie Database) 
May 4, 2017 6:30PM- 8:30PM 
The Baltimore Museum of Art 
This event is free and open to the public. Space is limited, and will be first come, first served. 
May 10, 2017 8:00PM- 11:00PM 
University Center Ballroom