Summer Session 2017 Scholarships
Complete your GLBL requirements quickly in the summer!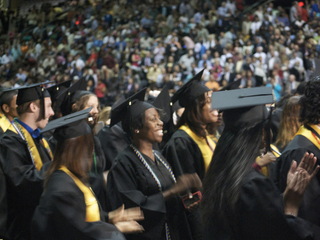 I. Grit Going Summer Scholarship 
The Office of Summer & Winter Programs awards a limited number of full and partial scholarships to UMBC degree-seeking students who have a high GPA and are close to graduating. Financial need (determined by the 2016/2017 FAFSA) and the percentage of courses taken at UMBC are also considered. 
DEADLINE: May 5 
II. The Special Programs Scholarship 
UMBC's Office of Summer, Winter & Special Programs will offer a limited number of summer scholarships to selected students enrolled in UMBC's Special Programs (Discover Baltimore; Culture & Social Justice; or Health & Social Inequalities) summer courses. The program-specific scholarship will cover the tuition cost of a three credit course, based on UMBC's in-state undergraduate tuition rate. Students are responsible for summer session fees, and any remaining out-of-state tuition costs, if applicable.
Students with an active interest in the courses and topics covered in UMBC's summer Special Programs are encouraged to apply. Scholarships are not transferable, and are only available for eligible students enrolled in designated Special Programs courses in Summer Session 2017.
DEADLINE: May 15