Global Studies Meet & Greet
Meet Dr. Rebecca Boehling, Director of Global Studies
Wednesday, February 15, 2017
12:00 PM - 1:00 PM
Fine Arts : 558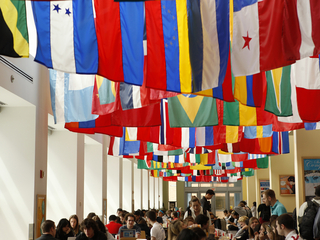 Welcome back to the spring 2017 semester!  
We have had a few changes in the Global Studies Program. Dr. Brigid Starkey continues her leadership role with the program returning as Associate Director, while the College (CAHSS) has appointed UMBC History professor
Dr. Rebecca Boehling
as Director. 
Dr. Boehling has recently returned to the U.S. and to campus after directing the International Tracing Service (ITS) for three years and completing a sabbatical research project in Berlin, Germany. 
Come meet Dr. Boehling and other Global Studies Program faculty and staff on February 15th in FAB 558 (the GLBL conference room) during free hour! Staff will be available to answer any questions you have about the major. 
Light lunch and drinks will be served.