Global Studies Students Abroad
Corey Simon: Montevideo, Uruguay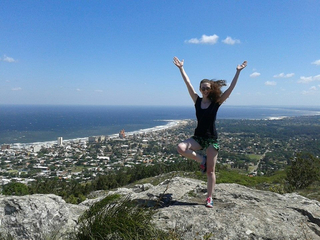 Global Studies student Corey Simon is currently studying abroad at Universidad Católica del Uruguay in Montevideo, Uruguay though
ISEP
. Read more about her experiences living and studying abroad below: 
"I've only been in Uruguay for a month (the southern hemisphere academic calendar is different; this semester is March-July), but I'm already in love with this country. Uruguayans are truly some of the friendliest people I've ever met. Everyone is more than willing to help you in any way they can, and spending time with friends and family is a top priority. Often, Uruguayans will also offer you mate: a hot, caffeine-rich, herbal infused beverage, typical of Uruguay and Argentina, and traditionally shared among friends. Uruguayans drink it everywhere. It doesn't matter if you're in class, on the bus, in the store, on the street etc; you'll see a ton of people drinking mate. Although a tiny country, Uruguayans also have a lot of national pride, which I got to see in full force at a Uruguay-Brazil soccer game in the stadium that hosted the first World Cup (which Uruguay won).
"In addition to its people, Uruguay's natural beauty is what makes it such a great place to live. Montevideo is located on Río de la Plata, and people spend a lot of time on la rambla, a boardwalk that goes all along the city coastline. I'm also lucky enough to live with a host family whose apartment is three blocks from the beach. The city is very green, with lots of tree-lined streets and huge parks. Outside of Montevideo, Uruguay is incredibly green as well, as most of the country is composed of small towns and farmland. Uruguay's population is only about 3.5 million, and cows outnumber people 3:1!
"I've spent the past three weekends exploring beach towns up the coast from Montevideo. The bus system is inexpensive and straightforward, so traveling to other parts of the country is very easy. I especially love Cabo Polonio, a rural hamlet located on a peninsula that's not accessible by road. You can either hike a couple hours through sand dunes (which I did), or take a jeep through the bordering national park. You can see sea lions and dolphins, and during some parts of the year, whales. There isn't any light pollution at night, so the sky is absolutely incredible, and you feel like you're in a planetarium.
"I can also not say enough good things about the exchange program and the university. Every international student gets paired up with a Uruguayan student, and there is a welcome commission composed of Uruguayan students that help exchange students get to know one another and become integrated into the university community by organizing special activities and weekend excursions. Most of the exchange students here are from other Latin American countries, so I spend time with a lot of native Spanish-speakers, which is perfect for my language immersion.
"In terms of academics, I'm taking a mix of special courses for international students, including a culture class where we visit different museums and historical sites, as well as regular courses alongside Uruguayans. I'm also volunteering through the university's service learning center at a non-profit called Gurises Unidos, which works with underprivileged youth. Not only is it a wonderful experience, but it also gives me a window into a side of Montevideo I wouldn't otherwise see.
"Uruguay is not very popular with exchange students, and most people traveling through South America skip it, but I strongly recommend you don't make that mistake!"