Baltimore Field School has a student opportunity available!
Documenting Stories of Migration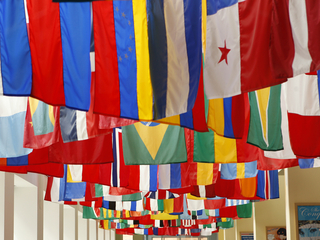 The Baltimore Field School: Documenting Stories of Migration
is a hands-on, practice-based course for students passionate about community collaboration and engagement. Structured as an ethnographic (cultural) field school, students will learn the basics of conducting cultural research and documentation out in the field, focusing on learning and documenting/recording the stories and experiences of refugee community members who have recently resettled in Baltimore. In particular, students will learn to conduct in-depth interviews with refugee community members, audio record the interviews, as well as learn the basics of photographic documentation and archiving resultant documentation. Through selected readings and short films, and guest lectures, students will critically engage with the methods and ethics of ethnographic research and documentation, as well as the scholarship on displacement, migration and immigration. As a collaboration between the American Folklife Center (AFC) at the Library of Congress, UMBC, and the Baltimore office of the International Rescue Committee (IRC), classes will be held at the Lions Building in downtown Baltimore, with fieldwork occurring mainly in East Baltimore. Student's documented interviews and photographs may be preserved in the AFC Archives for future public and research access.
 *** Classes will be held at the Lion Brothers Building in Baltimore. The course is 4 weeks long during summer session II.*** Lion Brothers Building: 875 Hollins St., Baltimore, MD 21201 ***** TRANSPORTATION: ***** By public transportation: The Lion Brothers Building is accessible from campus by UMBC's Downtown Shuttle line, local bus lines, as well as the Charm City Circulator. ***** By car: There is street parking (free and metered) along the residential roads around the Lion Brothers Building. Students may also park on the UMBC campus (with valid parking permit) and ride the Downtown Shuttle.
Contact for more information: 
Associate Professor & Chair
Department of American Studies