AOK Library Resources
---
Global Studies Academic Periodicals

The Journal of Globalization and Development (JGD) publishes academic research and policy analysis on globalization, development, and in particular the complex interactions between them. The journal is dedicated to stimulating a creative dialogue between theoretical advances and rigorous empirical studies to push forward the frontiers of development analysis. It also seeks to combine innovative academic insights with the in-depth knowledge of practitioners to address important policy issues. JGD encourages alternative perspectives on all aspects of development and globalization, and attempts to integrate the best development research from across different fields with contributions from scholars in developing and developed countries.
---
Identities explores the relationship of racial, ethnic and national identities and power hierarchies within national and global arenas. It examines the collective representations of social, political, economic and cultural boundaries as aspects of processes of domination, struggle and resistance, and it probes the unidentified and unarticulated class structures and gender relations that remain integral to both maintaining and challenging subordination.The journal illuminates the relationship between culture and power and transports the field of ethnic studies beyond descriptions of cultural diversity.
---

This journal exists to address the process going on around us as a whole, and developing over time. It addresses globalization with a holistic perspective, a perspective that gives us a view on the past and present of the globalizing phenomena that will be invaluable to all who seek to comprehend this fundamental aspect of our society and its development.
The journal's focus is unabashedly on the new globalization that has manifested itself so vigorously in the period starting sometime after World War II. There are deep roots in the past that must be explored along with attention to the present flowering of the concept, when the idea of globalization became a conscious matter, partly suggested by the widespread use of the term itself.
---
Journal of Global History addresses the main problems of global change over time, together with the diverse histories of globalization. It also examines counter-currents to globalization, including those that have structured other spatial units. The journal seeks to transcend the dichotomy between 'the West and the rest', straddle traditional regional boundaries, relate material to cultural and political history, and overcome thematic fragmentation in historiography. The journal also acts as a forum for interdisciplinary conversations across a wide variety of social and natural sciences.
---

The Journal of Critical Globalisation Studies (JCGS) is an anonymously peer-reviewed, open access, interdisciplinary academic journal. The journal's unique approach is to see globalisation studies not as a niche sub-field that is limited to exploring an established set of debates. Rather, JCGS takes globalisation in its broadest, philosophical sense: as a traversal from local sites of investigation to matters of global significance. The journal therefore sees globalisation not just as an ongoing and contested transformation of space and time, but also as an invitation to turn this very process into a means through which to develop new modes of thought and practice.
---
The main editorial goal of the Journal of World-Systems Research is to develop and disseminate scholarly research on topics that are relevant to the analysis of world-systems. It especially wants to include works that proceed from several different theoretical stances and disciplines. These include, but are not limited to, civilizationists, evolutionary approaches, international political economy, comparative, historical and cultural analysis. This journal seeks the work of political scientists, historians, sociologists, ethnographers, archaeologists, economists, and geographers.
---

The Global Studies Journal is peer-reviewed, supported by rigorous processes of criterion-referenced article ranking and qualitative commentary, ensuring that only intellectual work of the greatest substance and highest significance is published. The Global Studies Journal is devoted to mapping and interpreting new trends and patterns in globalization. This journal attempts to do this from many points of view, from many locations in the world, and in a wide-angle kaleidoscopic fashion.
---
Global Health: Science and Practice (GHSP) is a no-fee, open-access, peer-reviewed, online journal aimed to improve health practice, especially in low and middle-income countries. Our goal is to reach those who design, implement, manage, evaluate, and otherwise support health programs. This journal is especially interested in advancing knowledge on practical program implementation issues, with information on what programs entail and how they are implemented. GHSP is currently indexed in PubMed, PubMed Central, POPLINE, and the Development Experience Clearinghouse (DEC).
---

Global Environmental Change is a peer-reviewed international journal publishing high quality, theoretically and empirically rigorous articles, which advance knowledge about the human and policy dimensions of global environmental change. The journal interprets global environmental change to mean the outcome of processes that are manifest in localities, but with consequences at multiple spatial, temporal and socio-political scales. The journal is interested in articles which have a significant social science component. These include articles that address the social drivers or consequences of environmental change, or social and policy processes that seek to address problems of environmental change.
---
The Globality Studies Journal brings theoretical, empirical, historical, and comparative approaches of contemporary social science into focus.
Theoretical views focus on globality as an emerging concept that refers to a societal condition. Empirical work focuses on the levels of globality of human practices, which are determined by research and analysis and have to be specified regionally. Historical dimensions focus on the globality of human actions and interactions that have waxed and waned over time. Comparative analyses focus on the globality of regional variations and intercultural differences, which let many flowers bloom but generate much strife and tension as well.
---

Global Governance showcases the expertise of leading scholars and practitioners concerned with the processes of international cooperation and multilateralism. The result is a provocative exploration of the most pressing transnational challenges of our time—issues of peace and security, development, human rights, the environment, and health among them—presenting groundbreaking research, opinion pieces, and book reviews. Global Governance is published in association with the Academic Council on the United Nations System (ACUNS).
---
Perspectives on Global Development and Technology (PGDT) is a peer-reviewed journal for the discussion of current social sciences research on diverse socio-economic development issues that reflect the opportunities and threats brought about by the world order shift from bipolar to global, the present economic liberalization that constricts development options, and the new enabling technologies of the Information Age. A founding principle of PGDT is that all people are entitled to scientific and technological knowledge to promote human development. PGDT is the international forum where the questions associated with this endeavour are thoroughly examined and clearly communicated.
---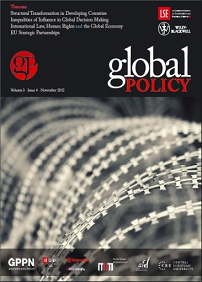 Global Policy is an innovative and interdisciplinary journal bringing together world class academics and leading practitioners to analyse both public and private solutions to global problems and issues. It focuses on understanding globally relevant risks and collective action problems; policy challenges that have global impact; and competing and converging discourses about global risks and policy responses. It also includes case studies of policy with clear lessons for other countries and regions; how policy responses, politics and institutions interrelate at the global level; and the conceptual, theoretical and methodological innovations needed to explain and develop policy in these areas.
---
Public Culture is a reviewed interdisciplinary journal of cultural studies, published three times a year—January, May, and September—for the Institute for Public Knowledge by Duke University Press. In the more than twenty years of its existence, Public Culture has established itself as a prize-winning, field-defining cultural studies journal. Public Culture seeks a critical understanding of the global cultural flows and the cultural forms of the public sphere that define the late twentieth and early twenty-first century. As such, the journal provides a forum for the discussion of the places and occasions where cultural, social, and political differences emerge as public phenomena, manifested in everything from highly particular and localized events in popular or folk culture to global advertising, consumption, and information networks.
---

Global Affairs is a new journal by EISA and published in partnership with Taylor & Francis. The journal will focus on global affairs, including diplomacy, strategy, political economy and policy. It will publish essays on global changes, trends, and politics among nations around the world and their policy implications for Europe; feature contending perspectives on global actors, structures and processes; be a forum for informed debates on European foreign policy; operate a 'must read' book review section; and run a lively and informative website on global affairs, including blogs, brief articles and debates