Global Studies Majors at URCAD 2016
How Global Studies inspired their presentations at URCAD.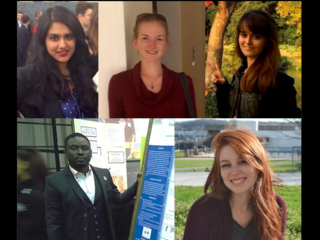 Hanna Dasoo
Suicide Terrorism in Sri Lanka 
Mentor: Dr. Devin Hagerty 
"Global Studies fosters a strong commitment to research, which is definitely showcased during URCAD. Dr. Hagerty was my mentor for this project and oversaw it, adjusting the research so that the final presentation would provide an effective overview of suicide terrorism. His class on South Asian international relations also helped guide me to this topic; it became the focus of my semester research and, with his aid, I easily transformed it into a poster for URCAD. Much of the context for my project could easily relate to several of my Global Studies classes. Terrorism is a hot topic and one that is constantly discussed in our classes, so my topic on Tamil terrorism fits perfectly into these discussions." 
Isabel Geisler
Grassroots Alternatives to the Global Corporate Food Regime in Baltimore 
Mentor: Dr. Felipe Filomeno 
"One of the most interesting questions of globalization is how it affects both local and global settings. In my most recent research for URCAD I wanted to explore global theories in the context of a local setting - Baltimore. I used Adam Smith's cosmopolitan and moral theories to attempt to explain the rapid growth of Fair Trade in the US, globally, and in Baltimore. Global Studies encourages me to pursue knowledge even further and use an interdisciplinary approach to analyzing problems. Currently under the encouragement of the faculty, I am investigating Fair Trade through a feminist economics lens to see whether it truly can aid in preventing gender violence and discrimination in Latin America."
Melina Latona 
Grassroots Alternatives to the Global Corporate Food Regime in Baltimore 
Mentor: Dr. Felipe Filomeno 
"As a Global Studies major in the Development, Health, and Environment track, I have taken a variety of coursework from geography and environmental science, to globalization theory and environmental policy, to language and cultural studies. My second major is in Cultural Anthropology. Together, these two degrees have instilled in me a passion for learning from local and grassroots solutions to address global, systemic issues. These interests have informed my research of the 32nd Street Farmers Market, as I sought to analyze the efficacy and potential for a more sustainable and equitable market alternative, one that supports farmer-producers and fosters meaningful exchange with consumers. My classmate and co-presenter, Isabel Geisler, has been the other half to this presentation, bringing her knowledge and research on fair-trade Thread Coffee. Having similar interests in analyzing global structures and forces that create systemic inequalities, we presented Grassroots Alternatives to the Global Corporate Food Regime in Baltimore." 
Daniela Mujica-Martorell
Between the Lines 
Mentors: Dr. Preminda Jacob, Ms. Dominique Zeltzman 
"My URCAD video presentation was centered around an animation I created as a Graphic Design major. However, as a Global Studies double major with a concentration in international affairs, I had the incredible opportunity to study abroad in Tokyo, Japan last fall. While the two fields of study may seem significantly different in nature, I find that my interests in understanding and appreciating a variety of beautiful cultures and languages tends to inspire the approaches I take as an artist. In this particular work, I chose to render the piece the way I did with the intentions that it would embody the sweetness of the relationship not only between the two main characters, but also between artist and artwork. I drew from my experience with the unique kawaii (cute) culture of Japan to heighten this gentle, innocent atmosphere in the video." 
Ghislain Tapsoba 
French Laïcité and the Centrality of Religion to Muslim Identity: Is Coexistence Possible?
Mentor: Dr. Brigid Starkey 
"I decided to investigate this topic because I was studying in France during the terrorist attacks that occurred in Paris on November 13th, 2015. As a Global Studies major, I intended to understand the historical factors that contributed to the alienation of the Muslim Arab community in France. My major provided me with the analytical tools to process such events of international relevance with an open mind. Being a Global Studies major also allowed me to assess the complexity of the issue, and informed me to use multiple levels of analysis from several academic disciplines in my research, in order to have a more precise understanding of the dynamics at play in contemporary French society." 
Congratulations to Global Studies student Natalie Macasa who also presented her research, "The Commodification of Women's Bodies: An Exploration of Transnational Surrogacy in India" at URCAD 2016.